Trying to decide on an energy-efficient roof
(Read article summary)
The new roof of a remodeled house needs to be energy-efficient as well as budget-friendly. What's the best choice?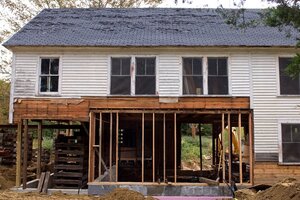 Joanne Ciccarello/Staff/The Christian Science Monitor
Like pretty much everything else in at Sheepdog Hollow, the 100-year-old farmhouse we're renovating, the roof needs to be replaced.
With decisions now made about what type of windows and front door we're going to install, it was time to look upward.
And since our goal is to renovate this house as greenly, but also as economically as possible, I began checking out the different roofing options.
My first inclination was to go for a metal roof. My grandparent's 19th-century farmhouse in Virginia has one – it's the original as far as I know. (The farm and home, by the way, are named Lone Jack, because the property was reportedly won in a card game with a lone jack.)
The metal roof currently on Monticello, the elegant country home built by Thomas Jefferson in the 18th century, is also tin, restored to look and behave just like the one the great intellect and statesman had installed toward the end of his life.
Since ensuring that things last for generations is part of the goal of green building, I was ready to put in a standing seam metal roof, if only for the romance of it.
Fortunately, it turns out, the vast majority of roofing materials that qualify for the Energy Star rating [PDF] – which can help earn you a $1,500 federal tax credit – also are metal.
---