Advantages and disadvantages of a cedar shake roof
(Read article summary)
A look at the environmental advantages as well as disadvantages of using cedar shakes for roofing.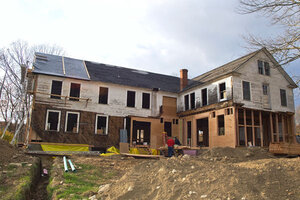 Joanne Ciccarello/Staff/The Christian Science Monitor
Compromise, although often essential for harmonious living, is not always easy. This post is about the decision to put cedar shake roof on Sheepdog Hollow and it is an ode of sorts to compromise, albeit, a grudging one.
My research made it clear that a highly reflective standing seam metal roof would be the most energy-efficient and long-lasting roofing option. And while it was not the most economical choice in the short-term, it was by far the most economical in the long-term simply because of its durability.
I can imagine generations to come gratefully looking up at that standing seam metal roof and murmuring a quiet thanks that 100 years from when it was installed, it was still keeping the house warm and dry.
But alas, that's not what future generations will see. No, Martin, my fiancé and partner in this project, wants a cedar shake roof, and so, in the spirit of compromise, that's what we're putting on.
If I had my druthers, a faux cedar shake roof made of long-lasting recycled materials like the EnviroShake brand would have been the perfect compromise. Even Bob Vila, formerly of "This Old House" fame, has featured them on his website. They cost about the same as a high-quality metal roof, have a life expectancy of about 50 years, don't need to breathe – which means they can be applied directly to plywood – and they don't need much maintenance.
But Martin would have none of it. "We agreed to try to retain Sheep Dog's original appearance," he said. "I want cedar."
OK. So here are some of the energy and environmental benefits of a cedar shake roof:
---