The unexpected joys (and expenses) of renovating an old house
(Read article summary)
When renovating a historic house, a homeowner learns to expect the unexpected. There will be a few trials and tribulations as well as joys.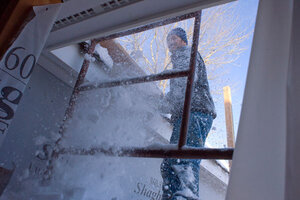 Joanne Ciccarello/Staff/The Christian Science Monitor
When we began the renovation of Sheep Dog Hollow last August, one of our goals – besides doing it in a green and economical manner – was to have it "buttoned up" by the time the first snow flew. That meant that the old granite foundation had to be reinforced, a new roof put on, and energy-efficient windows all installed.
Our carpenters assured us it could be done by Christmas, at the latest.
Well, here's to the best intentions. It's currently the week between Christmas and New Year's, and we're not even close. The final concrete slab in the basement (the floor had been dirt) was finally poured last Wednesday. But the windows are just framed shells covered with plastic, and the old patched asphalt roof still sits atop the house.
That said, the old home does appear to be standing a bit taller in its bucolic setting. That's because of all of the unexpected work that was uncovered as we began demolition of the old plaster walls.
Yes, the cedar clapboard we thought could be saved had to be torn off because the shingles were brittle and cracking, impossible to reuse. The soffits and fascia at the edge of the roof all had to be replaced because they had too many rotted spots to patch efficiently. And all of the lovely crown molding that graced Sheep Dog's eves also had to be replaced for the same reason. Age can be a terrible thing when something is not lovingly cared for.
---