Green renovation conundrum: old flooring vs. new
(Read article summary)
When renovating an old home in Connecticut, owners find that the debate centers on 'green' vs. budget – do they try to reuse the old flooring, buy recycled old floorboards, or go with new?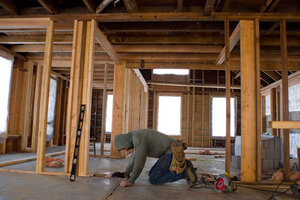 Joanne Ciccarello/Staff/The Christian Science Monitor
When we first looked at Sheep Dog Hollow, the 100-year old farmhouse we're renovating in a way that we hope will be both green and economical, we thought we would be able to save the old oak floorboards, or, at least, some of them.
But as anyone who's renovated an old house will tell you, the best intentions often fall victim to what's revealed beneath the layers of paint, linoleum, and patching that's been done over the years.
It turns out that the floors were in a lot worse shape than it originally appeared.
In part, that's because in the 1930s, during the height of the Great Depression, the Czechoslovakian family that owned the old farmhouse turned it into a summer boardinghouse of sorts. That's when a second floor was added, and the house broken up into many small rooms … 14 bedrooms total. Czech immigrants from New York City would come up and spend weeks in the country eating the home-grown food, hunting, and swimming in the lake at the end of the road.
I'll have more on that history to come.
But in the meantime, all of those additional small rooms meant that lots of temporary walls were put up, and, yes, nailed to the old wood floors. Add to that that: In the 1960s and 1970s,Sheep Dog was used as housing for a summer camp, and then abandoned for 20 years (think leaky roof). So you get some idea of why the floor was not in such good shape.
As we tore down the old walls, it became quite evident that it would it cost significantly more to patch and repair the floor that's there than to simply tear it up, save what boards we can, and then put in new floors.
That raises the question: just what kind of floors?
At first it was a no-brainer. We decided to find old, wide boards from other homes that had not had the good fortune to find two suckers like us ready to restore them. That was easy, in part because there's a whole industry based on reclaiming lovely old architectural accouterments before any wrecking ball falls, from Texas to right here in Connecticut.
---