It's cold outside. What happened to global warming?
(Read article summary)
The brutal cold snap that has put much of the Northern Hemisphere on ice this week doesn't disprove global warming or mean we're off the hook for greenhouse emissions.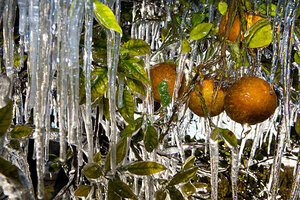 Scott Audette/REUTERS
As top scientists and policymakers continue to wrangle over how to limit greenhouse gas emissions, a growing number of Americans are offering the following response: "Brrrrrr!"
There's no denying it: It's cold. How cold is it? It's so cold that Wall Street bankers have their hands in their own pockets. It's so cold that Richard Simmons was spotted wearing pants.
As the Monitor's Patrik Jonsson noted Tuesday, a blast of Arctic air has swept over the United States, bursting water mains in Georgia, imperiling orange groves in Florida, and driving up energy prices everywhere.
It's not just the US that's having its collective nose hairs frozen. In northern India, a cold snap has killed scores and shut down thousands of schools. Beijing has been hit with the biggest snowfall in half a century. Seoul is reporting the heaviest single-day snowfall in recorded history. And snow and ice has blanketed much of Europe, snarling trains, planes, and buses. Overall, it feels as though the entire Northern Hemisphere has wandered into a giant meat locker.
Those who doubt global warming are having a field day – albeit the indoors kind. "Perishing Cold This Global Warming. Isn't It?" observes Iain Martin, a political blogger for The Wall Street Journal. "Burn more coal. The Earth could use some heat," writes the Christian Broadcasting Network's Dale Hurd. It seems that cheap cracks about global warming are quickly becoming the new "Cold enough for you?"
Do they have a point? Does the current Hoth-like weather cast the scientific basis of global warming into doubt?
No. And here are three reasons why:
---
Subscribe to Recharge
Get the Monitor stories you care about delivered to your inbox.