Comparing Earth's current warming to the Pliocene
(Read article summary)
The early Pliocene period might be the best analog for the warmer world scientists expect in the not-too-distant future.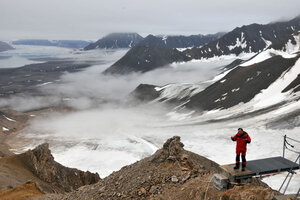 NEWSCOM
About 4.5 million years ago, during the early Pliocene period (3 to 5 million years ago), temperatures on Earth were some 3 to 4 degrees C (5.4 to 7.2 degrees F.) higher in the tropics, and perhaps 10 degrees C (18 degrees F.) warmer near the poles.
To get that much warming, current climate models have to pump up atmospheric carbon dioxide levels to between 500 and 600 parts per million — about twice the preindustrial level of 280 ppm.
We're currently around 387 ppm. And, given the lack of progress so far toward curbing fossil-fuel emissions, we'll be fortunate to stabilize atmospheric concentrations at 450 ppm.
Scientists are therefore quite interested in what the world looked like during the early Pliocene, and why. At least in terms of atmospheric CO2 concentrations, that seems to be where we're headed.
A new paper in Nature Geoscience concludes that we may, in fact, already be there. According to current climate models, with each doubling of CO2, Earth warms around 3 degrees C (5.4 degrees F.). Scientists have deduced, therefore, that atmospheric CO2 concentrations during the Pliocene must have been between 500 and 600 ppm.
But according to this study, the fossil evidence doesn't support that assumption. Carbon dioxide concentrations in the early Pliocene, as inferred from several sources, were more likely between 365 and 415 ppm. We're already well within that range.
The implications are (at least) two-fold: 1. It takes a lot less CO2 to warm Earth than previously thought. 2. Earth's climate may be more sensitive to increases in CO2 than current climate models assume.
"[T]he Earth-system climate sensitivity has been significantly higher over the past five million years than estimated from fast feedbacks alone," write the authors.
---