Water conservation – the why and how for homeowners
(Read article summary)
In renovating a home, why should homeowners conserve water and how do they go about it?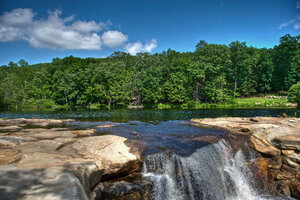 Courtesy of Mick Marsden
At Sheep Dog Hollow, our green and economical renovation challenge, we apparently have an abundance of water. The view from almost every window includes a peek at a pond, or a brook, or one of the two lakes at either end of our dead end road. And did I mention we're a mere four miles from the mighty Connecticut River?
A lack of water does not appear to be a problem. But that doesn't mean that water use shouldn't be paid proper attention in our effort to renovate in a green manner. It turns out that residential and commercial development, industry, and an a whole assortment of other human activities, such as watering the lawn, are putting a stress on the world's water supplies – even when it's not apparent.
According to the website Earth Easy, it's one of those little-noticed but looming, ever-growing problems that each person can do a little something to help with:

"In 1990, 30 states in the US reported 'water-stress' conditions. In 2000, the number of states reporting water-stress rose to 40. In 2009, the number rose to 45. There is a worsening trend in water supply nationwide. Taking measures at home to conserve water not only saves you money, it also is of benefit to the greater community."
On the kids' section of a local water and electric utility in Florida (a peninsula, think plenty of water), I found an even simpler, nuts and bolts explanation as to why it matters if water is conserved. It states simply: "Saving water is good for the earth, your family, and your community."
• "When you use water wisely, you help the environment. You save water for fish and animals. You help preserve drinking water supplies. And you ease the burden on wastewater treatment plants—the less water you send down the drain, the less work these plants have to do to make water clean again.
• When you use water wisely, you save energy. You save the energy that your water supplier uses to treat and move water to you, and the energy your family uses to heat your water.
• When you use water wisely, you save money. Your family pays for the water you use. If you use less water, you'll have more money left to spend on other things."
---