For a more energy-efficient home, ample insulation is key
(Read article summary)
Want a home that's more energy-efficient and saves money on heat and cooling? Upgrading your insulation is key.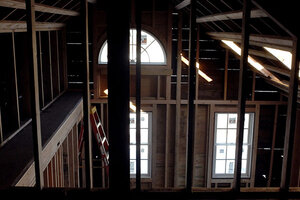 Joanne Ciccarello/Staff/The Christian Science Monitor
The one thing that's become clear as I stumble my way through the green renovation of Sheep Dog Hollow: Insulation is king.
Forget spending a fortune on solar power or geothermal if you're thinking of greening up your current home. Every green expert I speak with always emphasizes the importance of dealing first and foremost with insulation in two forms: attacking air infiltration (sealing up all air leaks and drafts in a house) and increasing the amount of R-value (essentially the thickness of the blanket of insulation in the house.)
Doing so can save homeowners as much as 20 to 30 percent in their annual heating bills.
There are plenty of people who could benefit from a simple insulation upgrade. According to the site Simply Insulate, there are 46 million American homes that are "under-insulated."
"If your home as little as 5 to 10 years old, you likely have one of the 46 million under-insulated homes in the US," according to the Harvard University School of Public Health. "Adding more insulation is easy. Plus, insulation is one of the lowest cost options for improving the energy efficiency of your home. It pays off fast and keeps paying off with better comfort and energy savings for as long as you own your home."
---
Subscribe to Recharge
Get the Monitor stories you care about delivered to your inbox.