Maybe Internet forums, not fences, are what make good neighbors
(Read article summary)
How do you tell if you moving near good neighbors or bad? Maybe an Internet forum would help.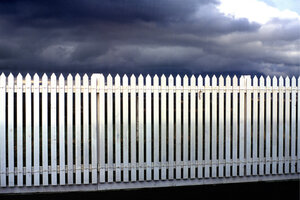 NEWSCOM
Many of us spend copious hours renovating and decorating our houses, planning our landscaping and gardens, and, before we move in, looking into the schools and restaurants in our towns. We cover every base we can, but most often we hold our noses and hope for the best when it comes to neighborhood relations.
There was a time not too long ago when I believed in a reality akin to that of the gals on "Desperate Housewives." Somewhere there must be a delightful gaggle of cheery neighbors who pal around, sharing life's traumas and joys. But I've lived in a lot of places – I'm thinking this is an urban legend.
Most of us dwell in world where we spend our afternoons hoping that the kid next door's un-mufflered dirt bike that's ridden around and around and around and around, vibrating windows and drowning out the TV, would throw a rod or a spark plug.
At my farm in Connecticut, I basically have one immediate neighbor. Many of you probably find the idea of this appealing.
I first met, uh, Jerry we'll call him, when I came to see my property for the first time. I'd been flying back and forth from California to the East Coast looking for the perfect place for both my gardening proclivities and my barn full of horses.
I've always subscribed to the notion that neighbors really affect quality of life, so I made a point of feeling out the local personalities at each house I considered seriously.
Sure we didn't get off to the best start – Jerry and me. I'll bet I didn't impart a fantastic first impression as I slogged through the February snow in my heels and pantsuit to accost him in his driveway. But I'd just gotten off a plane from California and had a brief window of time to gather as much information as possible.
---