Stylish new products made from repurposed materials
(Read article summary)
A throw-away society warms to new products made from recycled and repurposed materials.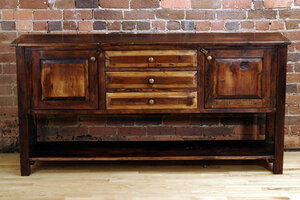 Courtesy of Leber Media Group
I remember that when I was a kid, my dad was the master of fixing things. He had his work cut out for him. From tiny radio wires that needed soldering to roof shingles that seemed perennially to have seen better days, there was a lot breaking and wearing out around our house.
He kept his arsenal of spare parts in a room in the basement. Jars of various sizes of washers and screws were labeled and carefully inventoried on handmade Lazy Susan-type storage systems. These involved used instant coffee jars nailed to a piece of wood. Tools of every sort were carefully stowed on neat hooks made of old horseshoes.
Need a bookshelf? My dad could lash one together in 20 minutes using the wood from a shed he'd torn down the year before. The results were usually far more interesting and stylish than pieces you could ever find in a store.
The notion of trashing a used nail (they can be unbent with a little careful hammering, you know) or a broken rake was novel to him. Stupid even. He'd come through the Depression and three wars, after all – things just weren't thrown away in his day.
Come to think of it, my dad and people of his era were eco-friendly and green long before it was a necessary movement. It was simply good, old-fashioned horse sense.
Of course, the notion of fixing a transistor radio – or even a telephone – back in those days was a doable option.
Not too long ago, I was standing in a cellphone store waiting patiently for my moment to buy the newest item. The man in front of me had a serious problem, and was drawing the ire of both customers and staff. He'd tried to fix a bug in his phone and inadvertently destroyed it.
The cellphone people smirked and sighed – which is understandable on one level, but also serves to demonstrate that the "fixers" of my dad's day are not only an eccentric notion now, they can be an annoyance. Why try to fix what could so easily be replaced?
---