Costa Rica, a tropical ecological paradise
(Read article summary)
Eco-tourism is popular in tropical Costa Rica, which is becoming known as a an ecological paradise.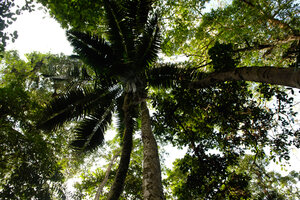 Andy Nelson/The Christian Science Monitor/file
I'm currently sitting in the airport in Costa Rica, fresh from a yoga retreat and heading back home to Sheep Dog Hollow, the 100-year-old farmhouse we're trying to renovate in as green a manner as is economically practical. (Think: from calming, tropical paradise to construction mayhem.)
I confess, I'm not quite ready yet to tackle the questions that I know are waiting for me – from timing on when we can start spraying our foam insulation to worries about our fast-draining checking account and whether we can really afford those $7-a-square-foot reclaimed wide board floors (that's $7 a square foot not including installation or refinishing.
No, in my mind I'm still hearing the gentle roar of the ocean waves, the morning's orchestral array of bird songs, and the rustling of palm fronds in the wind.
And so, since I won't get to Sheep Dog to check on progress and attack some of those questions until Wednesday, I thought I'd just take a moment to reflect on how lovely it is to spend time in a genuine "BioGem."
Yes, Costa Rica is the first country in the world to be designated a BioGem by the Natural Resources Defense Council. The reason for the designation, says the NRDC, is the government's commitment to "becoming the world's first carbon-neutral nation by 2021."
---