Want to save money on a green home renovation? Hire a HERS rater.
(Read article summary)
The best say to save money on a green home renovation is to hire a knowledgeable HERS rater.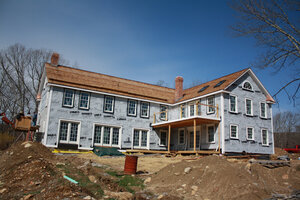 Courtesy of Alexandra Marks
Coming back to Sheep Dog Hollow after a two-week hiatus, I'm struck by how much progress has been made. Suddenly, the old farmhouse has begun to look as I imagined that first day I saw it last summer.
The cedar shake roof is on – although it still needs work, the new Low-E energy-efficient windows have been installed and trimmed, and the carpenters are now busily putting on the cedar clapboard siding.
It almost looks finished, like a real house someone could live in!
During the second week of April, the insulation contractors arrive to start spraying in the foam insulation – just in time for tax day. And since April 15 is just around the corner, and the clapboard installation has produced a bit of a lull in the "greening" aspects of the renovation, I thought I'd revisit the various rebates and tax incentives available for those who take the green plunge.
Let me begin with a mea culpa. When I first started this project and blog I arrogantly thought I could do it without hiring a "green expert" – I was going to go it alone, do all the research myself, and save Martin and me some money.
Well, it turns out I was being not just penny-wise and pound-foolish, but at least $10,000 worth of foolish.
---