Home renovation requires resilience
(Read article summary)
When you renovate a home, you need resilience, a sense of humor, and plenty of know-how.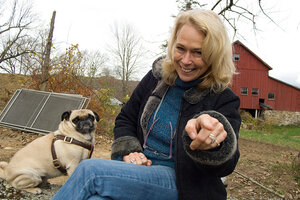 Joanne Ciccarello/Staff/The Christian Science Monitor
Like much of the rest of the East Coast, we in Connecticut are being inundated with rain. It started Sunday afternoon and has kept up a steady, strong patter on the roof since. It's Tuesday, so we're talking Day 3 of what's beginning to feel like Noah's flood.
As a result, Frank and Dale, our carpenters, are only able to clapboard the porch-protected parts of Sheep Dog Hollow – our green renovation experiment.
And since there are only two porches, we're getting behind on our clapboard schedule – which means we're going to have to delay putting in the spray-foam insulation, which means shifting the sheet-rockers a week or two forward, which means the house may not be finished by the fall.
Ah, construction.
The first lesson anyone should be given when taking on a large renovation project is to expect delays, unwelcome surprises – like a rot in a wall you thought you could save - and yes, lots of extra costs.
My advice to anyone involved in building or renovating is to maintain a wry sense of humor, and – probably more important – get educated.
I must confess that initially I didn't take my own advice, at least about the latter. I just plunged willy-nilly into turning Sheep Dog into the home of my dreams.
Fortunately, I've had my fiancé Martin, a savvy businessman, along for the ride. He has forced me to keep a close watch on every penny and counseled me on how save some.
He also is wonderful in recognizing when things are going too slowly and headed for a disaster – and brilliant in getting them moving again without bruising any egos – including mine.
---