Do you have firsthand advice about wind power?
(Read article summary)
A green home renovator wants firsthand advice about residential wind power in the Northeast.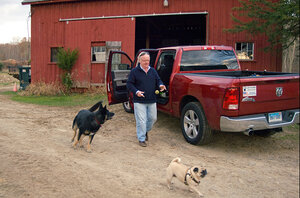 Joanne Ciccarello/Staff/The Christian Science Monitor
This is going to be a short Sheep Dog Hollow green renovation blog post, as well as an appeal.
It will be short for the reasons I will explain in the next paragraph. It is an appeal, because I don't know anything about the viability of residential wind power in the Northeast and would like to hear from people who do.
Here are my excuses for the brevity of the blog: A week after our once-in-a-100-years deluge here in Connecticut, water continues to seep through the few cracks on the basement floor here at Little Pug Farmette, our current home. As a result, I'm still wet-vacuuming and sorting through dozens of boxes of sodden books, a heartbreaking experience.
Second, Little Pug (much to my sadness) is on the market so we can afford to finish Sheep Dog and we have a showing first thing tomorrow morning.
Then there are the Sheep Dog renovation considerations: The spray foam insulators are arriving there and I've still got to vacuum up the wood shavings and sawdust from all the nooks and crannies in the walls to prepare for them.
Right now, I feel rather hurried.
But now to wind power: I've decided I want to investigate its viability, along with solar, as a possible alternative source for electricity. This is not a decision we have to make right away. In fact, we can wait at least a year after construction at Sheep Dog is finished before deciding.
That's because we installed a geothermal heating system. We'd like at least a year's experience with it operating full tilt to know exactly how much electricity we'll be using. (And we hope to have replenished our fast-depleting bank account by then, as well.)
Once we know our annual kilowatt usage, we can decide whether to put in a wind turbine or solar panels to augment the electricity from the power company
---
Subscribe to Recharge
Get the Monitor stories you care about delivered to your inbox.