The spacemen cometh: How spray-in insulation creates a leak-free building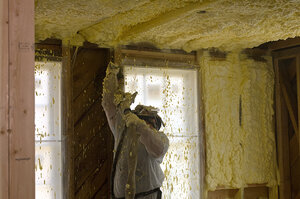 Joanne Ciccarello/Staff/The Christian Science Monitor
They appeared in a large white Anchor Insulation truck and are now turning our 1902 farmhouse into a 21st century insulation wonder. OK, so maybe I hyperbolize. But after writing more about insulation than I ever imagined possible, to actually see it in the process of being installed – white protective suit, facemask, hose, and spray-gun in hand – it is quite remarkable.
What they're spraying is Icynene, an open-cell spray foam whose company touts it "creates continuously insulated, tight walls and ceilings," what is essentially a "leak-free building envelope." That's exactly what drafty old Sheep Dog Hollow, our green renovation adventure, needs to move into its energy-efficient future.
Now, Icynene has its pros and cons. But I confess, I've found more pros than cons (although, since we opted to use it, I clearly am biased toward the pros).
On its upside, its made of organic materials. According to the product website Insulate For Life it "is a water-based formula that contains no formaldehyde, CFCs or HCFCs. The insulation has the texture and look of angel food cake and is made up of millions of tiny cells. These cells are filled with air and provide permanent control of air and airborne moisture movement. Icynene contains no materials that emit harmful gases."
---