Is the world economy suffering from 'high-priced fuel syndrome'?
(Read article summary)
The major issue for many countries is that oil is becoming too expensive for the economy to afford, Tverberg writes.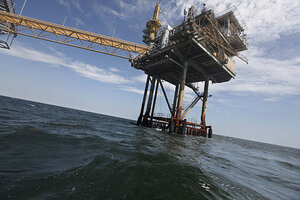 Gerald Herbert/AP/File
Governments and economists around the world have not figured out that what the world economy is suffering from, to varying degrees, is "high-priced fuel syndrome".
High-priced fuel syndrome has a number of symptoms:
Slow economic growth, or contraction
People in discretionary industries laid off from work
High unemployment rates
Debt defaults (or huge government intervention to prevent debt defaults)
Governments in increasingly poor financial condition
Declining home and business property values
Rising food prices
Lower tolerance for immigrants
Huge difficulty in funding retirement programs, programs for disabled, and regular pension plans
Rising international tensions related to energy supply
The countries with the most problem with high-priced fuel syndrome are the industrialized countries that are big importers of oil. This is the case because oil has been a particularly high-priced fuel in the past few years. Importing high-priced oil adds challenges of its own, since funds used for imported oil flow out of the country.
While oil is the biggest culprit in high-priced fuel syndrome, high-priced fuels of other sorts can play a role as well. Natural gas is recently high-priced in Europe and Japan, but not the USA. The higher natural gas price contributes to a higher average energy cost level for these countries. High-priced renewables, such as off-shore wind and solar photovoltaic, can be expected to act in a similar fashion, because they add to the price challenge customers face.
---