'Green banks': The answer to clean energy's subsidy woes?
(Read article summary)
Green banks, clean-energy finance banks that operate as public-private financing institutions, are being touted as a life-line that will push the clean energy industry into maturity, according to OilPrice.com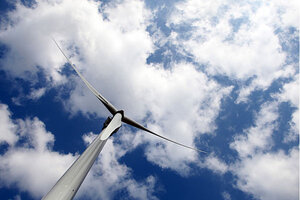 David Vincent/AP/File
As America's clean energy industry takes up position in a no-man's land between subsidies and sustainability, the idea of "Green Banks" is being touted as a life-line that will push the industry into maturity, but it's an idea that will only work on a state level and by empowering states to make their own clean energy decisions.
Green Banks are essentially clean energy finance banks formed at the federal or state level that operate as public-private financing institutions with the power to raise capital to support clean energy projects through loans and loan guarantees. These banks can issue bonds and sell equity and they can often offer cheap loans.

In the US, it is the state level that would likely take the lead in forming Green Banks, and the state of Connecticut has already taken the plunge with the establishment of the Clean Energy Finance and Investment Authority (CEFIA). Launched last year, CEFIA merges several clean energy funds whose revenues come from a utility system benefit fund and the Regional Greenhouse Gas Initiative, among others, with a financing authority repurposed as a clean energy investment bank. Presently, CEFIA is talking with solar photovoltaic stakeholders to boost the bundle, and according to the Brookings Institute, is close to making its first loans. (RELATED: Will a Melting Arctic Help Postpone Peak Oil?)
In Germany and the United Kingdom, the idea of the Green Bank has also taken hold, with a clean energy development bank already boasting success in Germany, while the UK's is only just getting off the ground. The UK's version, however, is experiencing some setbacks in and a recession and deficit that is not falling as planned, the UK Green Investment Bank is behind on gaining borrowing powers.
---