Obama blocks Chinese wind farm ownership in Oregon
(Read article summary)
Citing national security risks, President Obama has blocked a Chinese company from acquiring wind farms in northern Oregon, according to Consumer Energy Report. The wind farms are situated near a US military base where unmanned drones are tested.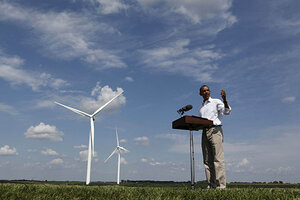 Larry Downing/Reuters/File
President Barack Obama has blocked a Chinese company from owning interests in four northern Oregon wind farms, citing national security risks given their close proximity to a United States military base where unmanned drones and electronic-warfare planes are tested.
The decision marks the first time in more than 22 years that an American president has vetoed a foreign business deal in the interest of American security. While every American president has the power to void foreign transactions involving United States-based businesses under the Defense Production Act, the ability has not been exercised since President George H.W. Bush preempted the sale of Mamco Manufacturing to a Chinese-owned agency in 1990. (See more: Wind Power Layoffs Abound as Industry Threatened by Tax Credit Expiration)
Owned by Chinese nationals, Rall Corp. purchased interest in the wind farms, located only miles away from the Naval Weapons Systems Training Facility in Boardman, Oregon, earlier this year. With this turn of events, the company will have to divest its interests in the wind farms immediately.
The company has already filed suit against the Obama Administration, alleging that the president had "acted in an unlawful and unauthorized manner".
---