Want a green job? Here's who's hiring in wind energy, solar
(Read article summary)
Wind energy, environmental consulting, biotechnology, and solar power were some of the fastest-growing industries in 2011, according to OilPrice.com. Which companies are doing the most hiring this year?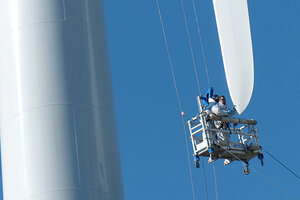 Marion Owen/Kodiak Daily Mirror/AP/File
This month has been a fortuitous one for green jobs, despite the ups and downs particularly in the wind energy sector, and there are a handful of companies who seem to be on a hiring spree, on the look-out for qualified applicants with backgrounds in everything from agriculture, engineering, construction, design, natural sciences and marketing.
Wind energy, environmental consulting, biotechnology, and solar power topped IBISWorld's list of fastest-growing industries in 2011, and Forbes listed solar installers among its highest paying jobs that require only a two-year degree. Beyond that, Forbes also came out with a list for 2012 of six-figure green jobs.
With jobs a key issue ahead of November elections, it may also come as a surprise that traditionally Republican-held states and swing states are leading the green jobs market. According to a report released earlier this month by San Francisco-based DBL Investors, green jobs are showing the most growth in traditionally Republican and swing states. Of the top 10 states for job growth—Alaska, North Dakota, Wyoming, New Mexico, Nebraska, North Carolina, Nevada, New York and Colorado-- four of them are traditionally Republican and four are swing states. Furthermore, of those 10 states that represent the largest percentage of clean energy jobs, six are held by Republicans and one is a swing state.
---