Hurricane Sandy pushes gas prices ... down?
(Read article summary)
If anything, hurricane Sandy is depressing gas prices at a time when they're headed down anyway. So many motorists are staying home that demand for gas has fallen.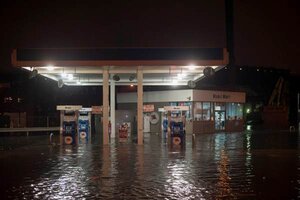 Keith Bedford/Reuters
For a superstorm, hurricane Sandy has had surprisingly little effect on gasoline prices.
On the morning after the storm made landfall, gas prices fell nationally by almost a penny per gallon. The following day, they fell another penny.
Even in areas hit hard by the storm, gas prices were up only nominally on the first day: less than a penny in Baltimore, Philadelphia, New York, and Boston, according to GasBuddy.com, a group of local websites that track gasoline prices. By the second day, they had stabilized or were falling again.
If anything, hurricane Sandy may be helping to push prices down faster.
That's because the storm hit an energy consuming area of the United States rather than an energy producing area. Thus, the impact of the storm will cause a bigger drop in demand than in supply. All those drivers in New York and New Jersey staying home could reduce gasoline demand by 1 million to 2 million barrels of gasoline per day over the next few days.
The storm also damaged two of the area's oil refineries, but that would account for a reduction in supply of only 200,000 to 300,000 gallons of gasoline per day.
---