SolarCity: Why all the buzz behind cleantech's latest IPO?
(Read article summary)
SolarCity ebbed the tide of bad financial news for the green energy industry with its successful IPO last week. In an interview with the Monitor, SolarCity head Lyndon Rive gives a behind-the-scenes look at the company's soaring debut on Wall Street and explains what it means for the future of renewable energy.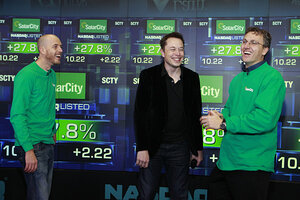 Mark Von Holden/AP Images for SolarCity
SolarCity, a San Mateo, California-based solar energy company, calmed anxious investors last week when its discounted IPO surged on Wall Street. In a telephone interview with The Christian Science Monitor, SolarCity CEO Lyndon Rive outlined the company's holistic approach to solar power, to which he attributes the success. Though it's often depicted as a solar installer, SolarCity is just like any other energy company, Mr. Rive said – except the power plant is on your roof:
Question: After a rocky start last week, SolarCity shares soared 50 percent in its Wall Street debut. To what do you attribute the turnaround?
Answer: It just comes down to the fundamentals of the business. The product is super simplistic. It's just cheaper, cleaner electricity ... Most people when given the option of paying more for dirty power or less for clean power will take paying less for clean power. There was tremendous headwind against the solar industry. I personally underestimated how deep the scars go and the amount of money the investors have lost ... In order to get the interest level to the high demand we had, we had to give a significant discount so that the investors knew there was no risk.
The energy industry has been around for a very long time of course, but it's all centralized creation of energy. You create the energy at a centralized location and then you use transmission and distribution to get it to your house. Never before has there been an energy company that creates energy at the place where it's needed. So these two concepts are disparate and haven't been seen by investors.
---