Canadian oil sands pollute nearby lakes. Report is blow to Keystone pipeline.
(Read article summary)
Oil sands production in Canada has contaminated surrounding lakes with substances linked to cancer, according to a new study. The scientific findings may help the case against building Keystone XL, a pipeline that would connect Canadian oil sands with American refineries.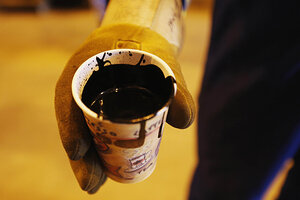 Todd Korol/Reuters/File
Production at the world's third largest source of oil has polluted surrounding waters with toxic substances, according to a new study. The findings add fuel to a fiery debate over a proposed pipeline connecting Canadian oil sands with US refineries.
Lakes as far as 56 miles away from production facilities near Fort McMurray, Alberta, show unnaturally high levels of substances linked to cancer. Researchers say they are the result of roughly half a century of development at the Athabasca oil sands.
While concentrations of carcinogens remain low compared with those found in urban lakes, scientists at Queen's University in Kingston, Ontario, called the findings, released Monday, "worrying" and warned of future effects from the spread of oil sands contaminants.
"We're not saying these are poisonous ponds," John Smol, a professor and the study's lead author told The New York Times. "But it's going to get worse. It's not too late but the trend is not looking good."
It is worrying because oil sands production near Fort McMurray is on the rise. In 1980, Canada was producing the equivalent of 100,000 barrels of oil a day. By 2010, it had risen to 1.5 million barrels. By 2025, it's slated to increase again to 3.7 million barrels per day.
---