Boeing 787 to undergo FAA review. Is electrical power at fault?
(Read article summary)
Boeing 787 will undergo an FAA investigation after a small fire and fuel leaks marred its debut. What does the Boeing 787's unique electrical power system have to do with the glitches?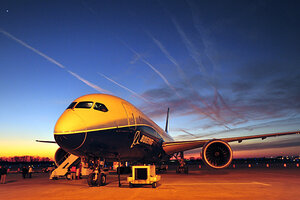 Eric Schultz/The Huntsville Times/AP/File
In its new 787 "Dreamliner," Boeing has brought a new level of fuel efficiency to the skies by borrowing a page from earth-bound hybrids: battery power.
So when the Federal Aviation Administration (FAA) announced Friday it would launch an investigation into the Boeing 787 because of a recent small electrical fire and fuel leaks, it raised a question if Boeing has pushed reliance on electric power too far too fast.
Boeing officials insist the plane is safe, and industry experts downplay the errors as typical growing pains for a new technology. The Airbus A380, now a staple of commercial flight, suffered an exploding engine and cracked wings in its early years.
The "Dreamliner" is propelled by fuel, but many of its onboard features depart from typical planes by using electrical power. The 787's engine start, auxiliary power unit, wing ice protection, and other units rely on electrical systems, instead of traditional pneumatics. This "no-bleed," electrical architecture allows the plane to produce thrust more efficiently as energy is not diverted away from the high-speed air produced by the engines.
In other words, the 787's jet propulsion is used more for propelling the plane, and not powering the accouterments that make air travel safe and comfortable.
It's also the first Boeing plane to use fast-charging, lithium ion batteries, and is made with lightweight composite materials instead of aluminum.
---