How do you spot a leaking oil pipeline?
(Read article summary)
Pipeline leaks, ruptures, and spills are increasingly causing property damage, according to a new study, and detection systems to detect pipeline leaks may be lacking.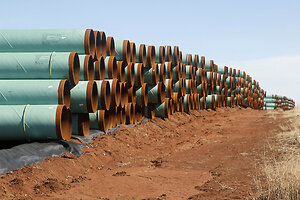 Sue Ogrocki/AP/File
Do you know how most leaks are found on oil and gas pipelines?
They get a shrill complaint over the phone from one of the landowners where the pipeline crosses.
It's true, says Dr. David Shaw, one of the authors of a draft "Leak Detection Study" prepared for the U.S. Department of Transportation, for a report that will go to the US Congress early in 2013. Dr. Shaw is a project engineer with independent consulting firm Kiefner & Associates, Inc., a high-end, Ohio-based consulting firm that specializes in pipeline engineering.
The Study – commissioned and funded by the U.S. Department of Transportation's Pipeline and Hazardous Materials Safety Administration (PHMSA) – analyzed several leak detection systems. What the Federal Aviation Administration (FAA) is to airlines, for example, PHMSA is to the pipeline industry.
"Very often pipeline operators haven't known they have a leak until they get a phone call from somebody saying there's oil in my field," Dr. Shaw said in a recent interview with the Oil and Gas Investments Bulletin.
The PHMSA was first founded in 2001 as a result of several large pipeline spills, and their report only goes to Congress every few years. And now is a time when more pipelines are needed than ever before to transport the huge new supply of shale oil, and Canadian heavy oil, through the continent.
Of course, that has brought more public scrutiny to the industry than ever before—making it a high-stakes report for the industry. Surprisingly, the mainstream media has almost completely ignored the 269-page draft report, which was released in late September.
---