BP Energy Outlook: why the oil giant's forecasts are flawed
(Read article summary)
The BP Energy Outlook 2030 is not a statistical or scientific document, Cobb writes, but rather a political one. It is not a statement about the way the world is so much as about the way BP wishes it to be over the next 20 years, he adds.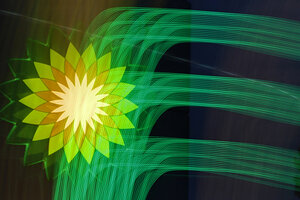 Alexander Demianchuk/Reuters/File
"Like dreams, statistics are a form of wish fulfillment," French philosopher Jean Baudrillard once said. Substitute "forecasts" for the word "statistics," and you'll have a good understanding of the public reaction to the recently released BP Energy Outlook 2030.
The psychoanalytic definition of wish fulfillment is "the satisfaction of a desire, a need, or an impulse through a dream or other exercise of the imagination."
The oil giant's long-term forecast—really an "exercise of the imagination"—was greeted with a sort of breathless astonishment by the media who took it for a statement of fact concerning the one thing about which we cannot know anything for certain: the future.
My first response to the coverage was: "Well, what did you expect the company to say?" This is the world's third largest oil company. Of course, its forecast through 2030 is that the world will remain hooked on fossil fuels, particularly oil which, BP tells us, is going to be plentiful despite what those peak oil killjoys are saying.
To admit any near-term limitation would have meant that the company's business model wasn't just flawed, but about to be revealed as a sinkhole for long-term investors as its main business winds down. That would have led to an immediate downward valuation in the stock price and a considerable hit to the wealth of the company's managers due to the effect on their stock options and holdings.
Once again, I say, "Of course, they're telling everyone they're optimistic about oil supplies." And yet, a look at the company's actual situation ought to lead to a much different conclusion.
---