EPA biofuel rule: why it needs reform
(Read article summary)
We are in a far better position now to consider scaling back our use of ethanol produced from grain biofuel than we were when the EPA biofuel rule was established, Styles writes. With shale gas, tight oil and various renewables, the energy scarcity that has defined our policies for the last four decades is far less relevant to our policy choices going forward.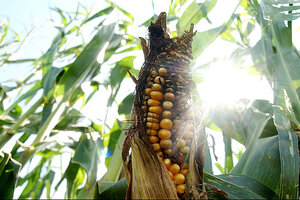 Janet S. Carter/The Free Press/AP/File
US Ethanol Policy Should Reflect Circumstances and Consequences
This April, two separate bills were introduced in the US House of Representatives to reform, or repeal, the federal Renewable Fuel Standard (RFS) that mandates how much ethanol and other biofuels must be blended into gasoline.
To understand why reform or repeal makes sense now, we should recall the factors that led Congress to enact this standard six years ago and consider how many of the basic assumptions underlying its design have changed since then. That requires a review of US fuel consumption and import trends, commodity prices, and the impact of the RFS on food prices. After summarizing the other points I want to focus on the last one, based on an interview I conducted with Dr. Yaneer Bar-Yam, an expert on complex systems who has developed a model that explains the behavior of food prices since the introduction of the first, less ambitious RFS in 2005.
Origins of the RFS
---