A surprising source of demand for US natural gas
(Read article summary)
The US natural gas market is on the verge of a big swing, Forest writes, but it doesn't have to do with liquid natural gas. Instead, there's an interesting and unexpected source of demand for US natural gas.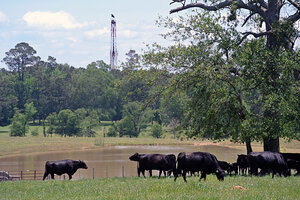 Douglas Collier/The Shreveport Times/AP/File
The U.S. natural gas market may be on the verge of a big swing.
And it's not about the talk of the town, Liquid Natural Gas (LNG).
It's about an unexpected source of natural gas demand:
Mexico
Mexican imports of U.S. gas have skyrocketed 92% since 2008. And with export capacity projected to grow to over 7 billion cubic feet per day (Bcf/d), Mexico could start taking 10% of U.S. production—in a very short time frame, with very low capital costs compared to the LNG boom unfolding.
There is a lot less risk, and a lot less cost in getting huge natural gas exports to Mexico, compared to LNG—and the volumes may be enough to move margins in the North American market.
At least six new pipeline projects are now on the books, aimed at sending gas southward.
Today, I'll explain what's happening now, and what potential impact this extra demand could have on natural gas prices.
To find out, we take a look below at exactly what's happening in Mexico, what's getting built, and who's positioned to take advantage.
The Not-So-Slow Death of a Gas Producer
Mexico used to have a pretty decent gas industry.
Between 1990 and 2008, the nation's nat gas production grew steadily, nearly doubling over the two decades.
The bulk of this output comes from national oil and gas company Petroleos Mexicanos, or Pemex. With strong natural gas prices between 2003 and 2008, Pemex stepped up its drilling, growing gas production from 4.5 Bcf/d to nearly 7.5 Bcf/d.
But with the collapse in gas prices in early 2008, that changed. Pemex stopped a lot of its gas drilling activity. Instead, the Mexican government made a strategic decision to meet domestic demand by importing now-cheap gas.
Since that time, Pemex's gas production has fallen steadily, by about 15% from 2008 levels.
---