The Keystone XL pipeline is irrelevant
(Read article summary)
The Keystone XL pipeline will make no measurable contribution one way or another to global climate change, Rapier writes. The arguments against it convey a false impression of the most important drivers of global carbon emissions.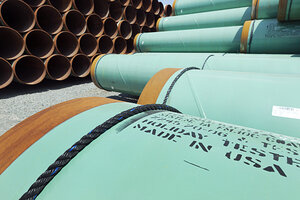 Danny Johnston/AP/File
Keystone XL's Insignificant Contribution to Climate
Last month President Obama unveiled a new plan to combat climate change in a speech at Georgetown University. While there is generally broad consensus that his comments further threaten the already battered US coal industry, his comments on TransCanada's (TSX: TRP, NYSE: TRP) Keystone XL pipeline project had pundits guessing at his meaning. Here is what the President said in his speech about Keystone XL:
Now, I know there's been, for example, a lot of controversy surrounding the proposal to build a pipeline, the Keystone pipeline, that would carry oil from Canadian tar sands down to refineries in the Gulf. And the State Department is going through the final stages of evaluating the proposal. That's how it's always been done. But I do want to be clear: Allowing the Keystone pipeline to be built requires a finding that doing so would be in our nation's interest. And our national interest will be served only if this project does not significantly exacerbate the problem of carbon pollution. The net effects of the pipeline's impact on our climate will be absolutely critical to determining whether this project is allowed to go forward. It's relevant.
---