Gas prices expected to soar. What gives?
(Read article summary)
Gas prices will rise dramatically in the near term, analysts predict. Many attribute it to a rise in oil prices, but the gas prices spike has more to do with gasoline fundamentals, writes Styles.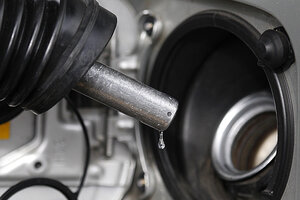 Rick Bowmer/AP/File
Which Oil Price to Watch?
Some economists and consumers are bracing for a sharp uptick in gasoline prices, because the price of crude oil has shot up by $10 per barrel in the last month. Except that it hasn't, at least not if we're talking about the global price of crude oil that's factored into the price of the petroleum products sold in much of the US, especially along the coasts.
The global oil market, reflected in the price of UK Brent crude, is only up about $5 per barrel this month, mainly due to the situation in Egypt. A big part of the jump in domestic oil prices reflects the closing of a historically anomalous gap as US oil moves back into line with the rest of the world.
Such an increase in oil prices does not automatically herald a rise in gasoline prices, especially if it mainly erases a discount that benefited refiners in one region of the country. Moreover, gasoline and crude oil as commodities move in separate markets, linked but not in lock-step. Over the medium-to-longer term they must clearly be connected, but in the short term each responds to distinct forces of supply, demand, inventories and expectations.
After Widening for Two Years, A Crucial Gap Closes
---