Gas prices: why $2 gas isn't happening anytime soon
(Read article summary)
Gas prices rose 4 percent in the US this week, according to AAA. Despite a boom in North American oil production, gas prices won't be approaching $2 anytime soon.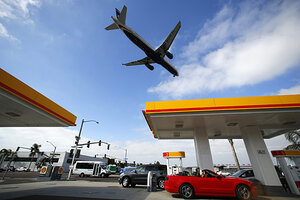 Mike Blake/Reuters/File
U.S. gasoline prices are expected to remain volatile for the month because of geopolitical fallout in the Middle East. Concerns over the global oil supply are fading away from the minds of most consumers and few people care even less about the unrest in Egypt. A weekend survey said gasoline prices were in decline, though that did little to ease the minds of American commuters scratching their heads at the pump during the first major heat wave of the season. A year ago, American consumers were paying substantially less for gasoline. While U.S. oil production gains mean fewer imports, there appear to be few guarantees for energy security, and lower gasoline prices, in the near term.
Motor group AAA reports an average Monday price for a gallon of regular unleaded gasoline of $3.61. That's more than 4 percent higher than last week, which translates to a 2 cent increase every day since July 8. A weekend assessment from Lundberg Survey said gasoline prices declined by less than 1 percent compared to last month. The U.S. Energy Department said it expects gasoline prices for the season to level off at around $3.50 or so, though that's still higher than the $3.39 average reported year-on-year. (Related article: BP to the Rescue for Midwest Drivers)
---