Is oil too dangerous to ship by rail?
(Read article summary)
In the wake of the Lac-Megantic oil train disaster, it's important to focus on how to improve rail safety, Styles writes, and not use the tragedy to advance social causes.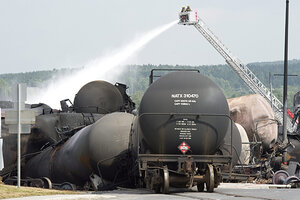 Paul Chiasson/The Canadian Press/AP/File
Two Conversations about A Tragedy
It's been just over a month since a train loaded with crude oil from North Dakota derailed and exploded in the Canadian town of Lac-Megantic, Quebec, killing an estimated 47 residents. In the interval since the accident, the relevant authorities have focused on ascertaining the cause of the accident and determining how best to improve rail safety. However, there has also been another, less-customary conversation about whether oil in general, and the specific oil on this train, might be too dangerous to transport by rail at all. That conversation would benefit from some context that appears to be absent.
Both conversations began with a tragedy in a place I recognized immediately. Ten years ago my wife and I passed through Lac-Megantic and drove along the Chaudière river that originates there, on its way to the St. Lawrence. It's an area of natural beauty and historical significance. The images of destruction and of oil spilled in the river were gut-wrenching.
---