Balcombe fracking protests: Activists rally in UK
(Read article summary)
Balcombe fracking protests have resulted in the suspension of drilling operations in a village in West Sussex, England. Amidst the furor, however, is the statement from Cuadrilla that there is no fracking in Balcombe.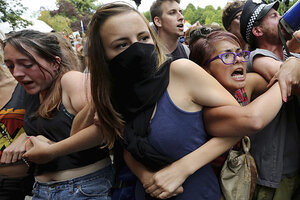 Gareth Fuller/PA/AP
[Editor's note: A previous version of this article misstated the geographical location of Balcombe.]
British energy company Cuadrilla Resources issued an apology last week to the residents of Balcombe, a village in West Sussex, England. Campaigners flocked to the region by the thousands and set up camp to protest against hydraulic fracturing. The company said it suspended its operations as a safety precaution on the advice from local police in light of the protest. British Prime Minister David Cameron came out in favor of fracking, saying the controversial practice was worth the risk. The only problem is that, so far, for all intents and purposes, fracking doesn't exist in Balcombe.
Cuadrilla issued an apology to Balcombe residents for causing a stir. Advocacy group No Dash for Gas set up camp during the weekend near the drilling site to protest the energy company's drilling campaign.
"Cuadrilla acknowledges and regrets the disruption and inconvenience Balcombe villagers will experience as a result of the No Dash for Gas action camp," the company said in a statement.
---