Downside from boom in the energy patch: fatalities
(Read article summary)
Job growth in the oil and gas sector is vastly outpacing total private sector growth, but so too are the sector's work-related fatalities. Have safety practices slipped in the energy industry?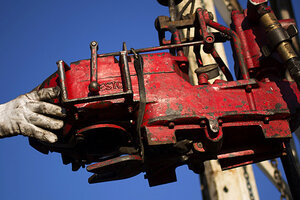 Shannon Stapleton/Reuters/File
Want a job? Go to the Plains.
Advanced drilling techniques have spurred a surge in employment in the energy industry that vastly outpaces other sectors. But the rapid rise in extraction has come with a downside: a rise in work-related fatalities.
Fatalities reached a record in the oil and gas industry last year, according to data released Thursday by the Bureau of Labor Statistics. So far, though, the rise appears linked to the rapid growth in drilling activity rather than a slide in safety standards.
"I think the industry is making progress on safety," Paul Caplan, president of Rigzone, an oil and gas industry news and job recruitment website, wrote in an e-mail, "but it's an area where you can always do more – making greater strides to protect its workforce and the public and environment in general."
Oil and gas jobs rose by 162,000 between 2007 and 2012, according to the US Energy Information Administration (EIA). That's a 40 percent increase. Compare that to the total private sector, which grew by only 1 percent during the same period. (Those totals come from Census figures. Using July Bureau of Labor Statistics (BLS) figures, the gap looks bigger: oil and gas grew 43.6 percent; the private sector shrank 1 percent since 2007.)
That kind of growth has bolstered the economies of North Dakota, Pennsylvania, and other regions rich in the shale rock that has transformed the US energy landscape. In 2001, North Dakota ranked 38th among the 50 states in gross domestic product (GDP) per capita. Between 2007 and 2012, crude oil production in North Dakota's Bakken Shale multiplied fivefold. Natural gas production tripled.
---