Egypt crisis unnerves energy investors
(Read article summary)
Energy companies may be able to tolerate a certain level of risk on their books, but looming civil strife in Egypt and elsewhere, no matter what form, is a poor investment to bank on, Graeber writes.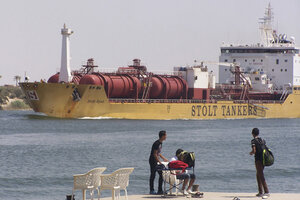 Reuters
U.S.-based energy explorer Apache Corp. is one of the last holdouts in Egypt, which accounts for about 20 percent of its global oil and natural gas production. It says its production hasn't dropped because of what appears to be a protracted political crisis in a country once lauded for its democratic achievements. Most energy companies with assets in Egypt have suspended operations since the military removed Mohamed Morsi from power in early July. The government said a decision to appoint a veteran executive as chairman of state-run Egyptian General Petroleum Corp. would likely boost foreign investor confidence. Members of the international community are suspending ties with the interim Egyptian government, however, and their retreat may pull investors like Apache with them.
The U.S. Energy Information Administration said in a July briefing on Egypt new oil discoveries were made there every year since 2008. Most of them were the result of exploration activity carried out by Apache in the Western Desert, the report said. The company reported seven oil and natural gas discoveries Aug. 1 in the Western Desert, where it holds 9.7 million gross acres. The largest discovery, Riviera SW-1X, tested at 5,800 barrels of oil and 2.8 million cubic feet of natural gas per day. Less than a month after the military took control, the company said its exploration and development program in Egypt was moving steadily along.
---