Our energy future: 'They'll think of something'
(Read article summary)
Concerns over future supplies of oil and gas are often met with a 'They'll-think-of-something' mentality, Cobb writes. But the only sensible response to the looming possibility of depleted resources is to begin reducing our energy use now in earnest.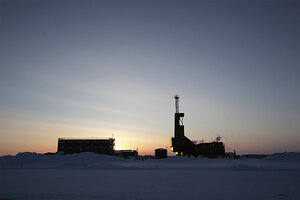 Lucas Jackson/Reuters/File
With oil prices hovering near historic highs and coal, natural gas and uranium prices yo-yoing during the last several years, concerns about the future of fossil fuel and uranium supplies often elicit the response: "They'll think of something. They always do."
This kind of thinking is usually premised on the idea that the future will look like the past, only bigger and better. It does not even admit the possibility that we may need to reduce our energy use. We'll come back this issue later.
The pronoun "they" in the generic quote above is vague, and the speaker does not know that he or she is actually referring to two distinct technological approaches to our energy future. Each technology progresses amid a different and highly consequential backdrop.
Let me cut to the chase. Advancements in technology designed to extract more oil, natural gas, coal and uranium from the ground are in a race with geological constraints. The more of each type of fuel we extract, the more difficult it is to wrest each subsequent barrel, cubic foot, or ton from the Earth's crust. The deposits become leaner, that is, there are fewer units of what we want per ton of earth--and more refractory, that is, more challenging to process in order to separate the stuff want from the stuff that isn't oil, natural gas, coal and uranium. The empirically established principle is that we go after the easy deposits first and save the difficult ones for later.
So now, we are arriving at the difficult ones: shale gas, tight oil, tar sands and low-grade uranium deposits. Rather than debate the future supplies of each which cannot be known with any certainty, let me turn to the the backdrop for what we call renewable energy.
The technological progress we make in solar and wind occur against a dramatically different backdrop. The light from the sun is not becoming less and less intense over the long run forcing researchers to think of ways to capture more and more of the diminishing intensity of sunlight. Instead, even though there are cycles to the sun and cloudy days, the light from the Sun that hits the Earth is remarkably steady. In fact, over the next 5 billion years, the Sun will actually increase in brightness before starting its transformation into a red giant.
---