Will Europe go shopping for oil in the Caspian Sea?
(Read article summary)
While the realignment of the energy map could bring short-term birth pangs to the European economy, Graeber writes, by the time the eurozone is in full swing, producers from the Caspian Sea may have taken Russia's place as the exporter of choice.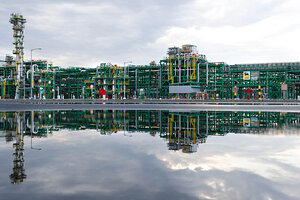 Leon Neal/Reuters/File
There may be as much as 48 billion barrels of oil and 292 trillion cubic feet of natural gas in the Caspian region. There's probably even more yet to be discovered. In June, a BP-led consortium operating in the Shah Deniz natural gas field in the Caspian Sea chose a pipeline option that could redraw the European energy map. On Wednesday, operators at one of the largest oil fields in the world, Kashagan, announced the first well was opened for production. With Russian energy shifting its focus elsewhere, the Caspian region may be fast becoming Europe's preferred choice for oil and gas.
The North Caspian Operating Co. announced Wednesday it produced the first barrels of oil from the Kashagan oil field in the Kazakh waters of the Caspian Sea. NCOC said Kashagan, discovered in 2000, is likely the largest field of its kind with an estimated 35 billion barrels of oil in place. Italian energy company Eni, in charge of the start of production, said initial Kashagan operations would give up around 180,000 barrels of oil per day and eventually ramp up from there. (Related article: Australia NSW to Become Natgas Boom Region?)
---