Sound and fury over energy nominee Ron Binz
(Read article summary)
Ron Binz – President Obama's pick to head an obscure federal agency – has energy insiders drawing battle lines. Is the Federal Energy Regulatory Commission the next flash point in the debate over US energy?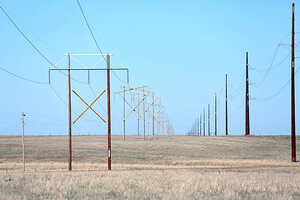 Travis Morisse/The Hutchinson News/AP/File
An esoteric federal agency is emerging as a new and unlikely flash point in the debate over America's energy mix.
Ron Binz, President Obama's pick to head the Federal Energy Regulatory Commission (FERC), has drawn scrutiny from energy groups and lawmakers wary of his public proclivity for renewable energy. As FERC commissioner, Mr. Binz would regulate the interstate transmission of electricity, natural gas, and oil. It's an increasingly important role as debates over pipelines, exports, and grid infrastructure dominate the energy industry.
Special interests have further elevated what has traditionally been a low-profile, highly-technical position, transforming yet another presidential appointment into an outsize struggle between partisan interests.
"You have Tom Steyer on the left and the Koch brothers on the right generating the pros and cons on the FERC nominee," said Marc Spitzer, a former FERC commissioner, referring to the billionaire environmentalist and the oil-wealthy siblings. Both groups reportedly have financial ties to either side of the Binz debate.
"Is [politicization of presidential appointments] the new normal?" asked Mr. Spitzer, who is currently a partner at Washington-based Steptoe & Johnson LLP. "I think it's sad, but the fact is that politics have changed in this country."
Backers call Binz a forward-thinking but level-headed regulator unafraid of challenging the status quo. Critics fear he will push too hard to decarbonize the nation's grid, drive up electricity prices and slow economic recovery.
---