New EPA rules: Coal's future depends on cheap carbon capture
(Read article summary)
The Environmental Protection Agency's new rules on carbon emissions make carbon capture and storage a make-or-break technology for the coal industry. Ultimately, the fate of the technology and the coal industry lies with market forces, not technical know-how.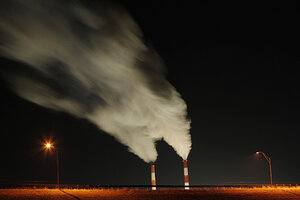 Charlie Riedel/AP/File
The Environmental Protection Agency unveiled new regulations Friday that limit the amount of carbon produced by new power plants in the United States.
The rules are most relevant for the coal industry, whose only hope for compliance rests on the fate of a promising, but expensive and early-stage technology: carbon capture and storage (CCS).
Finding a way to capture and store power plant carbon emissions underground on a commercial scale isn't exactly easy. But the real challenge comes not in technical innovation, but in finding market demand.
"The technology [is] not rocket science," said Howard Herzog, a senior research engineer who specializes in CCS technologies at the Massachusetts Institute of Technology's Energy Initiative in Cambridge, Mass. "A lot has been around for a long time and used in other fields. It works; it's just a matter of setting up the right incentives to bring it into the marketplace."
Backers of the new regulation say it will accomplish just that. Limits on carbon emissions will spur industry to develop carbon capture technology, ultimately making coal competitive with natural gas, wind, and solar in a future, low-carbon economy. But the coal industry accuses the Obama administration of waging a "war on coal," stifling innovation of the very clean-coal technologies it aims to promote.
"Ironically, the EPA's proposal could actually do long-term harm to the environment," Robert Duncan, chief executive of the American Coalition for Clean Coal Electricity, said in a statement Thursday. "By stopping the development of new coal plants, the EPA is halting the development of carbon capture and storage (CCS) technologies. This misguided policy only adds insult to injury to an industry which has successfully used clean coal technologies to reduce many emissions by more than 90 percent."
In its simplest form, CCS siphons off heat-trapping carbon-dioxide (CO2) emissions at some point in the coal-firing process. The emissions are then stored deep underground where they cannot escape into the atmosphere. In some cases, the trapped carbon dioxide is pumped into depleted oil reservoirs to coax hard-to-reach oil from stubborn rock formations.
---