Keystone pipeline: Five years later, a changed energy dynamic
(Read article summary)
The Keystone pipeline was first proposed five years ago. A lot has changed since then and the Canadian economy is starting to ponder a future that's less coupled to the US energy market, Graeber writes. TransCanada, with its domestic pipeline proposal, is already hedging its bets on the Keystone pipeline.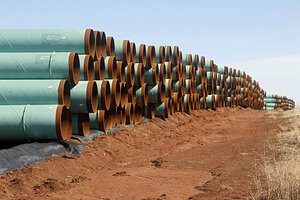 Sue Ogrocki/AP/File
Canadian Natural Resources Minister Joe Oliver said last week it was time to add more diversity to an energy sector that relies almost exclusively on the United States. New drilling technologies for shale have translated to major gains in U.S. oil and natural gas production, which itself translates to a U.S. economy that relies less on imports to meet its energy demands. That's forced Oliver to stand up and take notice. He told the audience at an energy conference in New York his country has the resources necessary to help meet the growing energy demands across the world. Five years after TransCanada first proposed its Keystone XL oil pipeline, Oliver's comments suggest North American market dynamics may be different for Canada.
"Canada has the resources in place to meet its own needs and the growing energy demands of global markets," he said. "We are aggressively working to enhance Canada's position as a stable, secure and environmentally responsible energy supplier to North America and the world." (Related Article: Canada Ramps up Pipeline Plans)
Back home in Calgary, he said diversity in the Canadian export market was necessary because virtually all of its oil and natural gas exports head to the United States. Production momentum there, he said, means Canada's influence as an energy partner is starting to wane.
---