In US vs. Iran, oil boom gives US an edge
(Read article summary)
Changing global energy dynamics loom large over the latest attempt to reconcile differences between the US and Iran. Production in the US and Saudi Arabia has boomed in recent years, eroding any leverage Iran might have in the ongoing debate over its nuclear ambitions.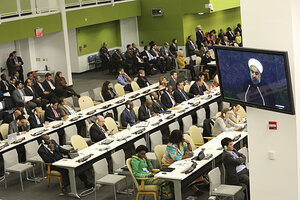 Mary Altaffer/AP
At the United Nations General Assembly this week, US and Iranian leaders took public steps toward warming the frosty relations that exist between the two countries. There's renewed hope that eventually a deal could ease sanctions on Iranian oil and gas, which have devastated the country's economy.
But while Iran needs access to world oil markets, world oil markets don't seem to need Iran. Production in the US and Saudi Arabia has boomed in recent years, offsetting Iran's limited ability to get its bountiful oil and gas resources to the global marketplace.
The changing energy outlook gives the US an upper hand in the latest attempt to find common ground between the rivals. Both sides seem willing to negotiate, but, as has often been the case, both seem unwilling to cede much ground on the question of Iran's nuclear program. This time around, it may be Iran who has to blink first, if anyone blinks at all.
"Given all of [Iran's] oil and gas potential, you would think they have a lot of leverage," says John Calabrese, a scholar at the Middle East Institute in Washington. "That would be true if there weren't other alternatives, and if there were stronger demand in the global market," Mr. Calabrese says in a phone interview. "I don't see that changing in Iran's favor."
The question of sanctions goes beyond pure energy dynamics, of course. Iranian President Hassan Rouhani made a humanitarian and diplomatic case against the sanctions in his UN speech Tuesday, calling them "violent" acts that cause "belligerence, warmongering and human suffering."
---