In US vs. Iran, oil boom gives US an edge
(Read article summary)
Changing global energy dynamics loom large over the latest attempt to reconcile differences between the US and Iran. Production in the US and Saudi Arabia has boomed in recent years, eroding any leverage Iran might have in the ongoing debate over its nuclear ambitions.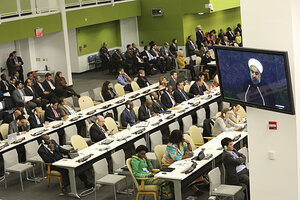 Mary Altaffer/AP
At the United Nations General Assembly this week, US and Iranian leaders took public steps toward warming the frosty relations that exist between the two countries. There's renewed hope that eventually a deal could ease sanctions on Iranian oil and gas, which have devastated the country's economy. 
But while Iran needs access to world oil markets, world oil markets don't seem to need Iran. Production in the US and Saudi Arabia has boomed in recent years, offsetting Iran's limited ability to get its bountiful oil and gas resources to the global marketplace.
The changing energy outlook gives the US an upper hand in the latest attempt to find common ground between the rivals. Both sides seem willing to negotiate, but, as has often been the case, both seem unwilling to cede much ground on the question of Iran's nuclear program. This time around, it may be Iran who has to blink first, if anyone blinks at all. 
"Given all of [Iran's] oil and gas potential, you would think they have a lot of leverage," says John Calabrese, a scholar at the Middle East Institute in Washington. "That would be true if there weren't other alternatives, and if there were stronger demand in the global market," Mr. Calabrese says in a phone interview. "I don't see that changing in Iran's favor." 
The question of sanctions goes beyond pure energy dynamics, of course. Iranian President Hassan Rouhani made a humanitarian and diplomatic case against the sanctions in his UN speech Tuesday, calling them "violent" acts that cause "belligerence, warmongering and human suffering."
President Obama, in his own speech before the General Assembly, was cautiously optimistic for some kind of resolution, but placed the onus on Mr. Rouhani to live up to the Iranian people's "mandate to pursue a more moderate course."
"[T]o succeed, conciliatory words will have to be matched by actions that are transparent and verifiable," Mr. Obama said in his speech Tuesday. "After all, it's the Iranian government's choices that have led to the comprehensive sanctions that are currently in place."
Those sanctions, in a more limited form, date back to the Iranian hostage crisis of 1979. It wasn't until 1995 that the US first placed sanctions on Iran's oil and gas industry. In 2011 and 2012, those sanctions were expanded to limit foreign investment in Iran's energy sector, and prohibit sale of equipment or services that would expand Iran's limited gasoline refining capabilities. Further measures have hit the central bank and cut off Iran's economy from the rest of the world.
The primary intent has been to slow Iranian progress toward developing an atomic weapon – an ambition that Iran denies – but the collateral damage extends far beyond the nuclear sphere, causing Iran's entire economy to shrink.
Oil exports make up between 50 to 60 percent of Iran's government revenue, according to the Economist Intelligence Unit. Last year, exports dropped to their lowest level since 1986 because of the sanctions, according to the US Energy Information Administration. Iran is second only to Russia in the world's largest reserves of natural gas, but lack of foreign investment and technology sharing has blocked development of the vast gas fields in the Persian Gulf. 
"Easing sanctions is critical to Iran's medium term economic development," writes Jeffrey Schott, a senior fellow specializing in international trade and economic sanctions at the Peterson Institute for International Economics in Washington. "Oil export volumes have been sharply reduced by the sanctions, causing a financial pinch, but high oil prices have cushioned the blow somewhat," Mr. Schott writes in an e-mail.   
And while global energy companies are interested in staking a claim in Iran's resources, there isn't quite the same kind of oil-hungry global demand pushing for compromise. Major economies are only slowly emerging from the 2008 global recession. Efficiencies in appliances and cars has driven down demand for fuels. On the supply side, production is booming in North America thanks to new but controversial drilling techniques, and Saudi Arabia has ratcheted up its output. 
"The real question is what the Iranian regime values more – economic prosperity or its nuclear weapons program?" writes Michael Singh, managing director of the Washington Institute for Near East Policy, a Washington-based think tank focused on the Middle East. 
"So far, it has been willing to sacrifice its economy to preserve its nuclear weapons program, but there are signals that Rouhani views Iran's economic situation as critical and will prioritize getting sanctions lifted," Mr. Singh writes in an e-mail, "though he will surely want to do so at the minimum possible cost to Iran's nuclear ambitions."  
---