Global warming: UN climate report warns on emissions, but some signs of progress
(Read article summary)
A UN climate report sounds the alarm on rising greenhouse gas emissions fueling global warming. While the developed world shows some progress in smarter energy use, surging growth in emerging economies threatens to overwhelm that progress, prompting the renewed warning from the UN climate report.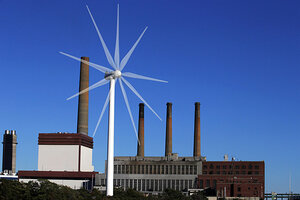 Brian Snyder/Reuters/File
In a hotly anticipated UN climate report issued Friday, the world's leading climate scientists again warned of the rising levels of greenhouse gases being pumped into Earth's atmosphere and fueling global warming.
Behind those rising emissions are two giant energy pumps: the developed world's economic engine and the developing world's economic engine.
The developing world's engine is revving at high speed. Hundreds of millions of people are moving into the middle class, replacing bikes with cars, buying dishwashers and refrigerators, and adopting lifestyles that demand more energy. That growth is happening so fast that climate scientists once again have sounded the alarm.
"Continued emissions of greenhouse gases will cause further warming and changes in all components of the climate system," the UN's climate panel said in a preliminary report released Friday. "Limiting climate change will require substantial and sustained reductions of greenhouse gas emissions." The report added that it is "extremely likely" that human activity is a primary driver of global warming – namely in the form of carbon-based fuels that release heat-trapping gases.
But that general gloom shouldn't overshadow the quiet progress that's being made in many parts of the developed world. There, the progress is slow, perhaps due more to a deep recession and a market-driven fuel switch than to specific moves on emissions. Still, it is a sign that societies can make strides toward smarter energy use.
For example, greenhouse-gas emissions in the European Union have fallen 16.5 percent since 1990, according to an October 2012 report by the European Environment Agency. That puts the EU on track to meet its ambitious climate goal set out in the 1997 Kyoto Protocol of reducing emissions by 20 percent by 2020.
In the United States, the world's second largest consumer and producer of energy, emissions between 2009 and 2011 fell to their lowest level for any three-year period since the mid-1990s, according to a US State Department's report to the United Nations on climate released Thursday. Key drivers of the change include a sluggish economy, a shift from coal power to natural gas, and more efficient buildings and cars.
---