Plug In Day: Electric cars accelerate up a long, winding road
(Read article summary)
Electric car enthusiasts have plenty of successes to celebrate at the third annual Plug In Day events Saturday, and more may be on the horizon. But electric cars remain a sliver of the total market, and face an uphill battle toward widespread appeal.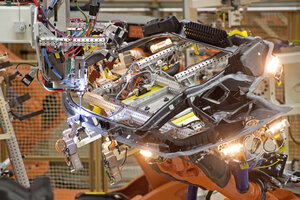 Jens Meyer/AP/File
As electric car enthusiasts gather at scheduled Plug In Day events in nearly 100 US cities Saturday, they have reasons to celebrate. Much has changed over the three years since the first nationwide day of alternative-fuel celebration.
Electric cars and plug-in hybrids are increasingly popular. International automotive giants are throwing their weight behind what once was a fringe interest. The talk of the car world is luxury electric carmaker Tesla Motors, a feisty newcomer that has raised the bar on what's possible in alternative transportation.
Despite its accomplishments and accelerating momentum, the plug-in industry has not yet reached the point of widespread appeal. High sticker prices and concerns over limited range stand in the way.
"The tipping point will be when middle America gets it – when they understand this technology is superior to what they're buying," says Paul Scott, cofounder of Plug In America, one of the organizers behind Plug In Day. "They may not want to buy them right then and there, but they will say 'Yes, I will buy a plug-in sometime in the future.' "
It could happen in three to four years, Mr. Scott said in a telephone interview, when Tesla Motors is expected to release an electric car that has a range of 200 miles and a price tag of around $30,000. Those are key price and range points, analysts agree, when it comes to winning over a skeptical public. But it will be an uphill battle.
While global sales of electric vehicles more than doubled in 2012, according to the International Energy Agency, but they make up a barely visible sliver of the market. For every 10,000 cars on the road in the 15 nations that account for almost all electric vehicle sales, only two are plug-ins. In terms of US sales last year, only four in every 1,000 was a plug-in, according to data from the Electric Drive Transportation Association.
---