Cranberries are headed north
Farmers see signs that the climate-sensitive cold-loving berries are shifting their range into Canada. Blueberries, too. What's to be done?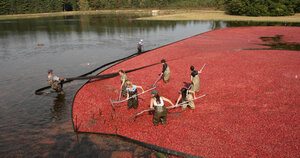 Tony Azios
When Rod Serres thinks about cranberries, he doesn't see them beside a Thanksgiving turkey. Another bird comes to mind: a canary in a coal mine. That's because, like all berries, cranberries are very sensitive to climate, making them the agricultural harbinger of global warming in America's Northeast.
"The cranberry is pretty highly adapted to its specific environment, its niche in life," says Mr. Serres, principal scientist for Ocean Spray, an agricultural cooperative and juice company headquartered in Lakeville-Middleboro, Mass. "And if you change its environment, it's probably going to be affected more than most species"
Cranberries were a late-season staple for native Americans in New England for thousands of years and have played key roles in American history, historians say. Early European settlers in Plymouth survived cold winters with help from cranberries, which native tribes taught them to harvest from the region's bogs.
Now the red berry, ubiquitous during the holiday season, is expected to retreat north later this century, deserting some key growing regions.
---