Bush's much-maligned climate talks could yet help global-warming treaty
At the meeting of the world's biggest polluters in Hawaii this week, host US has a chance to show it is serious about action on climate change.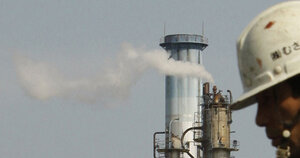 REUTERS/Kim Kyung-Hoon
Leaders from the world's largest developed and developing countries gather in Honolulu today for two days of talks aimed at kick-starting broader international negotiations on a new global warming treaty.
The agenda for those broader talks emerged from the UN climate conference in Bali in December, when ministers from more than 180 countries agreed on the issues negotiators need to deal with as they draft the new treaty over the next two years. The treaty would pick up where the 1997 Kyoto Protocol leaves off in 2012.
The Major Economies Meetings – which pull together representatives from 15 countries, the European Union and European Commission, and the UN – are designed "to focus on a few key areas from the Bali road map where the major economies can make a detailed contribution to be brought into the UN negotiations," said Jim Connaughton, head of the White House Council on Environmental Quality, at a briefing last Friday. The group represents countries producing the majority of today's greenhouse gas emissions.
President Bush lifted the lid on the agenda a bit during his State of the Union address Monday night when he proposed spending $2 billion over the next three years to help developing countries pay for clean-energy technologies. Two days earlier, Japan had pledged $10 billion.
---