Global warming not always to blame for extreme winters
Natural variations in weather can vary more than climate change signals, experts say.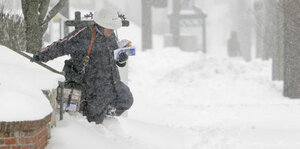 AP Photo/Kiichiro Sato
Whatever global-warming models may suggest about the futures of Earth's climate, one thing is certain: Global warming never promised to eliminate winter, especially for those living outside the tropics.
From snowballs in Baghdad to severe blizzards in China, the past three months have seen their share of extremes:
• Greece and Turkey experienced severe storms in January.
• By some estimates, the storms in China flattened about 10 percent of its forests.
• Even tropical northern Vietnam experienced a prolonged cold spell in January that sent temperatures as low as 28 degrees F.
The extremes weren't all frigid. In Stockholm, Sweden's weather service posted an average temperature of 36 degrees F. this winter, which for weather-data purposes runs from December through February. That makes it the warmest winter since 1756. In January, Australia saw its temperatures rise 2.2 degrees F. above the 1961-2000 average, a record anomaly.
In the continental United States, things were a bit more sedate, despite the tornadoes that struck the Southeast in January and the snow that piled high in ski country. This winter ranked as the 54th coolest on record, though still 0.2 degrees F. above normal, according to preliminary figures released Thursday by the National Climate Data Center in Asheville, N.C. And it ranked as the 18th wettest winter, dropping an average of 2.7 inches of moisture on the country – just over half an inch above normal.
---