Where climate change meets national security
EU report adds urgency to old warnings, NATO to take up discussion next.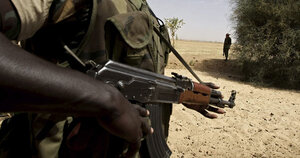 REUTERS/Stuart Price/Albany Associates/Handout/File
Last year, a group of retired American military officers warned that, left unchecked, climate change could lead to international instability.
The problems could include refugees driven by drought, loss of food supplies, and rising sea levels: They might include violent conflicts, these generals and admirals said. The warning was an early sign from senior military leaders that climate change could have a serious national-security dimension.
In a report to be presented at a summit of the 27-nation European Union in Brussels on Thursday, two top EU officials will add urgency. The essence of their report: "Climate change is a threat multiplier which exacerbates existing trends, tensions, and instability," says a story in Britain's The Guardian newspaper. It continues:
"The main message is that the immediate and devastating effects of global warming will be felt far away from Europe, with the poor suffering disproportionately in south Asia, the Middle East, central Asia, Africa, and Latin America, but that Europe will ultimately bear the consequences. This could be in the form of mass migration, destabilisation … radicalisation of politics and populations, north-south conflict because of the perceived injustice of the causes and effects of global warming, famines caused by arable land loss, wars over water, energy, and other natural resources."
---