Climate change debate: push emissions goals or technology?
Should the world put less focus on emissions caps and more on spurring clean technologies?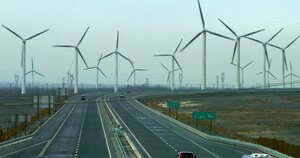 REUTERS/China Newsphoto/FILE
A long-simmering debate has come to a boil among climate policy specialists over the most effective way to ensure humanity has the necessary hardware it needs to reduce greenhouse-gas emissions to virtually zero over the course of this century.
At issue is whether the current tack on climate policy, which emphasizes the establishment of binding emissions goals, should take a back seat to an all-out push to develop the technology needed to accomplish that feat.
Politicians are more likely to back tight emissions targets if the tools to meet them are readily at hand, proponents of a technology-first approach argue.
"This is one of the two or three central debates in the climate issue," says Joseph Romm, a senior fellow at the Center for American Progress in Washington and a top US Energy Department official during President Clinton's second term.
The trigger for the flare-up is a critique issued Thursday that attempts to show that the UN's Intergovernmental Panel on Climate Change has significantly understated the technology challenge the world faces on climate change. It does so, the argument goes, by overestimating the pace at which less carbon-intense and more energy-efficient technologies take root naturally as economies evolve.
---