Media survey: Bush's new global-warming plan gets cool reception
Politicians at home and abroad question the president's strategy, while new climate studies pour in.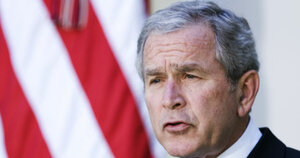 AP Photo/Manuel Balce Ceneta
President Bush's recently announced climate-change strategy has been met with muted applause.
Mr. Bush called for stabilizing US greenhouse-gas emissions by 2025, a goal many scientists say is far less than what's needed to turn around Earth's warming trend. Global-warming activists and many Democrats in Congress blasted it as too little, too late. No surprise there.
But criticism came from around the world as well.
The Financial Times quotes Japan's environment minister as saying that Bush's announcement "fell far short" of expectations:
"Truthfully, I want the US to tackle the issue of global warming more proactively," said Ichiro Kamoshita.
South African Environment and Tourism Minister Marthinus van Schalkwyk was harsher in his criticism:
"There is no way whatsoever that we can agree to what the US is proposing," said Van Schalkwyk. "In effect, the US wants developing countries that already face huge poverty and development challenges to pay for what the US and other highly industrialized countries have caused over the past 150 years."
---