Senate weighs cost of acting, and not acting, on emissions
It doesn't come down to polar bears, it comes down to cost – and while the cost of acting is steep, the cost of inaction appears to be steeper, experts say.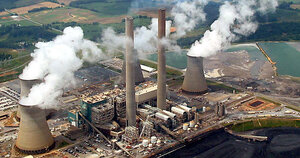 AP Photo/The Daily Tribune News, Dayton P. Strickland/FILE
For those who think the battle over US carbon emissions legislation is already in full swing, this past week was a reminder that it's just beginning. The central debating point: the numbers.
How much will it cost American taxpayers to curb US carbon-dioxide emissions? Or, conversely, how much would it cost to just drop the blinds, turn up the air conditioner, and not do much at all? The answer to the question of economic impact - far more than the issue of polar-bear survival - will determine the outcome of the climate bill battle, political observers say.
On May 20, government witnesses told the Senate Energy and Natural Resources Committee how much the leading climate change legislation - the Lieberman-Warner bill (also known as "America's Climate Security Act") - is likely to cost the US economy in terms of economic growth:
• As much as 3.8 percent of the Gross Domestic Product (GDP) - about $983 billion annually - under a high-cost scenario that cuts CO2 emissions by 40 percent by 2030, according to the Environmental Protection Agency. The consensus among climate scientists is that the US and other nations need to cut their emissions by 80 percent by 2050 to avoid the worst effects of climate change.
• By as little as 1 percent of GDP - $64 billion per year, on average - between 2010 and 2030, the Energy Information Administration reported.
• Some $669 billion annually by 2030 and the loss of 3 million to 4 million jobs, says a study unveiled this month by the National Association of Manufacturers (NAM).
---