How does your city's carbon footprint stack up?
A report by the Brookings Institution looks at the 100 largest metro areas in the US, using data on residential energy consumption and highway transportation.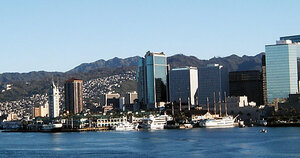 Peter N. Spotts/FILE
With its balmy climate and residents who would rather go to the beach than drive on an interstate, Honolulu has the smallest metropolitan carbon footprint in the United States.
By way of contrast, mix an icy Kentucky winter with coal-fired power plants and residents who often hit the highways, and you end up with the metro area of Lexington-Fayette, Ky., rated as having the largest carbon footprint in the nation.
These two extremes are part of a report issued Thursday by the Brookings Institution in Washington, which looks at the per capita carbon footprint of the 100 largest metro areas in the US, based on residential energy use and highway transportation. The smallest carbon emissions are generally in warmer areas or cities with a highly developed public transit system. Most are in the West.
The worst emitters are mainly in the mid-Southern and Midwestern parts of the US, areas subject to winter weather. Urban sprawl there has made for long commutes in automobiles, and most of the region's electricity comes from coal. The cost of energy in these areas is lower compared with metro regions with smaller carbon footprints.
The Brookings report is likely to be controversial since few cities want to be lumped at the bottom of the heap, and critics point out that it does not look at all aspects of carbon emissions. But the report may also help some cities and regions see how other areas are reducing their carbon emissions in their transportation systems, power generation, heating and cooling of homes, and even land use.
---